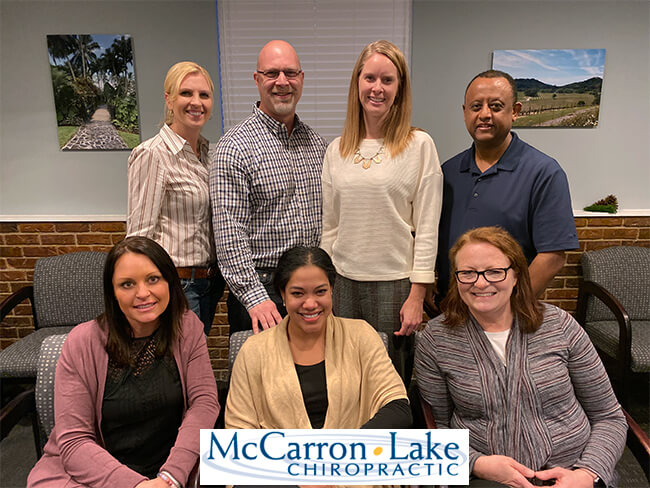 Top [Left to Right]: Dr. Pamela Comes, Dr. Jason Smith, Dr. Laura Dronen, Michael
Bottom [Left to Right]: Kristy, Carolina, Jeannie
Dr. Laura Dronen — Chiropractor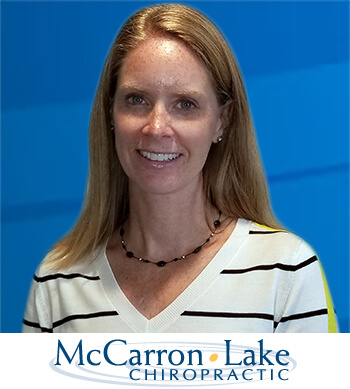 A graduate of the University of Minnesota and Northwestern College of Chiropractic is a member of the Minnesota Chiropractic Association. As a Chiropractor in St Paul, she is interested in total Body Wellness, Nutrition, and Fitness. An avid runner and soccer player, she enjoys treating athletes of all ability levels. Dr. Dronen is passionate about the treatment of Acute and Chronic Injuries, Headaches, Neck and Back Pain, and Pregnancy-Related Issues. Dr. Dronen helps your body maximize its optimum function. By adjusting the joints in the body, she is able to relieve the pressure on nerves, thus allowing the joint to move through its full, pain-free, range of motion. Through Chiropractic Care, she is also able to stimulate the body's immune system. Combining Chiropractic Care, Nutrition, and Rehabilitation, she helps her patients to promote strong healthy, pain-free living. When Dr. Dronen is not at the St. Paul chiropractic clinic, you will find her at home with her husband and 2 daughters. They enjoy snowboarding and skiing, watersports, traveling, and watching movies.
To know more about Dr. Laura Dronen, click here to watch her video.
Dr. Jason Smith — Chiropractor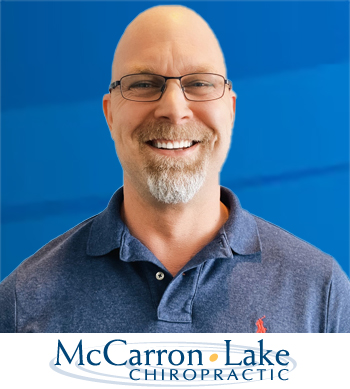 Attended the University of Minnesota and then furthered his education at Northwestern College of Chiropractic. He is a member of the Minnesota Chiropractic Association. As a chiropractor in our St. Paul chiropractic clinic, his interests lie in treating those involved in automobile accidents, sports injuries and nutrition counseling. He has had numerous continuing education hours focusing on the impact of motor vehicle injuries and chronic health issues. In his leisure time, he enjoys playing and watching all sports and spending time with his daughters. Many of our patients who have been injured or who suffer the ill effects that everyday stress can play in their lives are amazed at how well they feel under chiropractic care. By implementing massage therapy, acupuncture and rehabilitation in a patient's care, there are noticeable differences in the speed of recovery. By assessing your particular problem, Dr. Smith is able to tailor a treatment plan to best suit your needs.
Dr. Pamela Comes — Chiropractor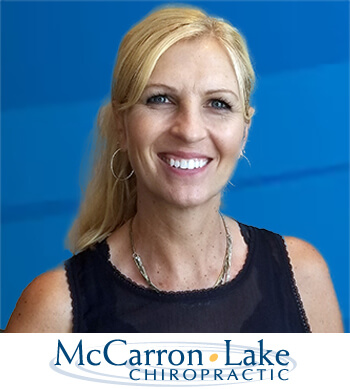 Graduated with a Bachelor of Science in Human Biology and a Doctor of Chiropractic Degree from Northwestern Chiropractic College. She grew up with chiropractic being a part of her life and health care. After finding personal relief from chronic migraine headaches with regular chiropractic care, she has become passionate about helping others who are suffering from headache pain. Dr. Comes has years of experience working with patients who are suffering from neck and back pain. This pain could have been from an auto collision, a lifting injury, or those "I don't know what I did, but just woke up in pain." She understands and cares about making every patient feel better. She also loves to work with those people that are trying to become the healthiest they can be through wellness care, diet, and exercise. In her free time, Dr. Pamela Comes enjoys golfing and watching her three kids in all of their activities.
Carolina — Chiropractic Assistant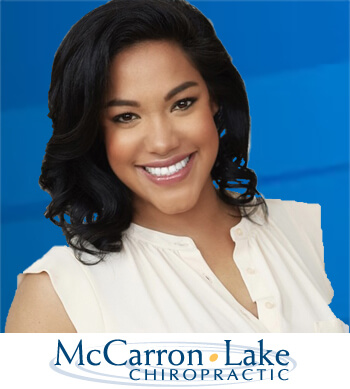 Originally from South America. Carolina grew up in Venezuela and Minneapolis. She graduated with a degree in Marketing with a focus on communications.
Carolina has a background in the Culinary arts as a personal chef. She specializes in farm to table dishes and enjoys really connecting with everyone she cooks for. She is passionate about telling a story through her dishes. She is a passionate supporter of regionally sourced food and local farms.
She joined our team to continue her career in health and wellness. Her favorite part of her job is the patient interaction and the variation of tasks she does daily; no two days are the same.
In her free time, you can find her spending time with her cocker spaniel Oscar and her boyfriend in the Minneapolis area. Traveling is one of her favorite pursuits, especially trips that are dog friendly and going to her cabin for long weekends.
Carolina is excited to continue to grow with the clinic.
Kristy — Chiropractic Assistant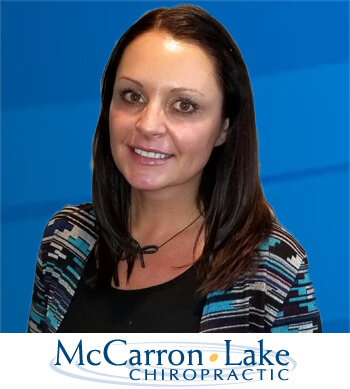 Attended Anoka Hennepin Technical College for Medical Administration. Kristy enjoys the satisfaction of helping patients understand their insurance benefits, as well as getting to know patients while working at the front desk. In her free time, Kristy enjoys having an active lifestyle and being outdoors, spending time with her son, friends, and two dogs Lola and Zoey.
Michael — Massage Therapist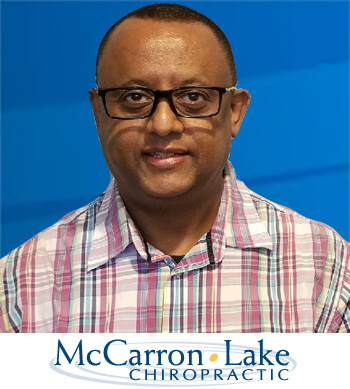 Studied Advanced Therapeutic Massage techniques at St Paul College, in St Paul, Minnesota; and graduated with honors in 2016. Michael has been practicing massage therapy ever since. Michael's favorite modalities are Swedish or relaxation, deep tissue, sports, hot stone, and chair massage. His advanced training coupled with skills acquired through working in a variety of settings, such as franchised massage clinics and currently at McCarron Lake Chiropractic & Massage, allowed him to customize each massage session to suit his clients' specific needs. Michael loves to spend quality time with family and friends. Michael appreciates the beauty and complexity found in nature; the quiet and peaceful outdoors are his most ideal place of escape.
Jeannie — Massage Therapist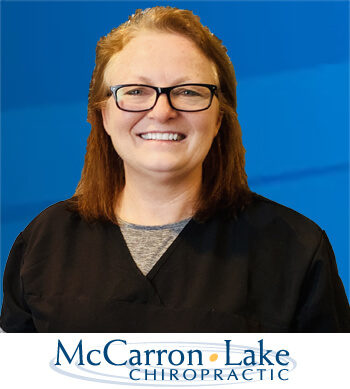 Jeannie began her mission as a massag1e therapist in 1997, as she attended the Minneapolis School of Massage and Bodywork completing their massage practitioner program.
Her style combines connective tissue work, Swedish massage and deep tissue techniques to provide a relaxing and rehabilitating session.
She is passionate about the maintenance of one's self and believes that massage therapy contributes to a person's overall well-being. She tries to accommodate to each individual she works with by understanding that pressure differences and pain tolerance is subjective. She does her best to match each client's desired needs by being mindful and transparent not only during intake but during table time as well.
She also attended Sister Rosalind Gefre's School of Massage and Bodywork and became certified in seated chair massage. She has been actively working in a variety of venues and is a seasoned therapist in the field for nearly 20 years.
In her free time, she enjoys her friends and family. Reading and yoga are first on her list for a relaxing weekend. Jeannie lives in St. Paul MN and looks forward to continuing her practice here at McCarron Lake Chiropractic.