How Chiropractor for Neck Pain Can Help You
Achy, Tight, Stiff, Throbbing, Sharp, Dull, Pulling, Stabbing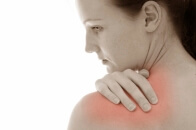 If you've been experiencing neck pain and soreness as a patient, you're not alone. According to the University of Washington Clinic School, neck pain is a very common problem that affects millions of patients each year, particularly office workers who tend to lean forward or slouch in their chairs. You're not alone if you've been suffering from neck soreness as a patient.
Chiropractic care, including spinal manipulation of the neck and spine, may be beneficial to patients experiencing neck soreness. Chiropractors, trained to identify the source of the patient's discomfort, use a variety of gentle chiropractic techniques, including spinal manipulation of the neck and spine, to provide the patient with the relief they require.
The goal of chiropractic care, a non-surgical treatment option, is not only to provide temporary relief from neck soreness but also to help every patient achieve long-term wellness through neck adjustment. Chiropractors, equipped with their expertise in non-invasive techniques, are trained to help you maintain good well-being by identifying and addressing issues that contribute to neck and cervical pain before they become too serious.
Here's how chiropractic can helps:
A chiropractic adjustment, specifically targeting the neck, reduces muscle tension and increases blood flow. This eases cervical pain and promotes healing in damaged tissues of the neck.
A chiropractic care adjustment, beneficial for pain patients, also has an effect on the nervous system. The adjustment may reduce stress levels or improve sleep quality, both of which can help reduce neck soreness.
Chiropractors often recommend complementary techniques such as massage therapy, electrical muscle stimulation (EMS), spinal manipulation, and cold laser therapy, including those recommended by the Mayo Clinic, to further relieve discomfort and speed recovery, especially for conditions like stiff neck and neck soreness.
What Are Some of the Most Common Causes of Neck Pain?
Common causes of neck pain in patients include poor posture, car accidents, sports injuries, and even daily household chores. Sometimes this soreness goes away within a short period of time, particularly if patient discontinue the offending activity for a while. On the other hand, the pain may persist or even come and go in patients. To alleviate neck pain and promote healing in patient, it is important to incorporate gentle stretching exercises in between warm compresses. These exercises can help improve flexibility and strengthen the neck muscles in patients, providing relief and reducing the likelihood of future discomfort.
Either way, you are left with a problem that will affect your daily life.
It may be a muscle, a ligament, a nerve, or a bone in Fort Worth. Do you know which one? Are you going to take a wait-and-see approach? When neck injuries or problems affect your life's activities, it is time to see a chiropractor for care. A chiropractor for neck soreness is trained to find and fix the problem causing the soreness, providing specialized care to alleviate discomfort and promote healing.
Chiropractors Treat the Root Cause of Neck Pain
When you see a cervical chiropractor for your neck pain, they may prescribe medications, physical therapy sessions, or recommend pain management techniques specifically tailored for cervical issues. This may help reduce your symptoms temporarily, but it does not address why neck soreness exists in the first place. A cervical chiropractor specialist will look at how your neck and body are structured and determine if there are any subluxations or misalignments in your cervical spine that could be causing these neck problems. Once these cervical alignments are corrected, relief from pain should follow soon after this treatment.
According to the Journal of Manipulative and Physiological Therapeutics, the researchers reviewed nine previously published trials and found "high-quality evidence" that patients with chronic neck soreness, including those with arterial dissection, showed significant pain-level improvements following spinal manipulation by a chiropractor. This study highlights the importance of care provided by chiropractors in managing chronic neck soreness and promoting overall well-being. No trial group was reported as having remained unchanged, and all groups, including those with neck-related issues, showed positive changes up to 12 weeks post-treatment.
Getting adjusted, specifically through spine and neck manipulation, can help rid you of your neck pain or injury, but that's not all. If you visit a chiropractor for neck soreness or stiffness, even after several weeks of self-care, chiropractic adjustments, including spine adjustment, can help address and treat your injury, while also keeping your bodily systems operating at peak efficiency, which equals better overall well-being for you.
McCarron Lake Chiropractic's St Paul chiropractic clinic serves customers from St Paul, MN, and surrounding areas, including Maplewood, Roseville, Little Canada, Falcon Heights, and Arden Hills.
To find out how chiropractic care can help your neck problems or lower back pain, contact our St. Paul chiropractors at McCarron Lake Chiropractic today or call us at (651) 489-6550.
I can't tell you how long I've had neck and back pain. Since I started seeing Dr. Dronen and Dr. Smith my pain has almost disappeared! I still go back for my maintenance visits and after each one, I feel amazing. A big thanks to the doctors, I recommend all my friends to them!