Low Back Pain Red Flags: Achy, Tight, Stiff, Throbbing, Sharp, Dull, Pulling, Stabbing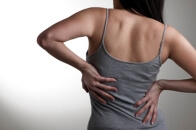 While the old saying goes that the only sure things in life are death and taxes, back pain isn't far behind. The National Institutes of Health estimates that between 60% and 85% of all American adults experience low back pain red flags problems at some point in their lives and that between 20% and 30% suffer from back pain at any given time. Unfortunately, it can be quite difficult to predict who will suffer, when it will occur, and what factors are likely to cause the problem. But low back pain red flags should not be overlooked.
Women were slightly more likely than men to have suffered back pain in the past two years. In men, the significant factors were age (particularly between ages 45 and 64), height, activity patterns, (especially heavy work, gardening, or yard work), and chronic stress. In women, the risk factors were weight, pregnancy, childcare, and household activities.
According to one study, it is clear that regular chiropractic care not only helps reduce the low back problem and disability associated with low back pain, but it also showed that chiropractic treatment following the acute treatment phase helps in keeping the pain from recurring. If you suffer from LBP or any other dysfunction, your doctor of chiropractic can design an effective treatment plan.
Chiropractic treatment is superior to medication for the treatment of chronic low back pain. (Spine; July 15, 2003)
McCarron Lake Chiropractic's St Paul chiropractic clinic serves customers from St Paul, MN and surrounding areas including Maplewood, Roseville, Little Canada, Falcon Heights, and Arden Hills.
Low  back pain red flags should not be ignored. To find out how chiropractic care may benefit you or how it can help your lower back pain, contact our St. Paul chiropractors at the McCarron Lake Chiropractic today or call us at (651) 489-6550.
Dr. Dronen is the first chiropractor I have been to in 6 years that has been able to adjust my Lumbar Spine, and it feels ah-mazing! Dr. Smith is also great. I have worked for them for 4 years now and feel lucky to be part of their team. Thank you!

Jessi W.