Tightness, Achy, Dull, Sharp, Throbbing, Stabbing
What do you do when you suffer from a pounding headache? Do you grit your teeth and carry on? Lay down? Pop a pill and hope the pain goes away.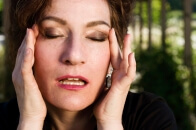 If you have a headache, you are not alone. Nine out of ten Americans suffer from headaches. Some are occasional, some are frequent, some are dull and throbbing, and some can cause debilitating pain and nausea.
Tension headaches and migraines are the 2 most common kinds and some believe they are a subset of cervicogenic headaches (head pain brought on by a problem in the neck). The cervicogenic headache makes up roughly 90% of all headaches, and it has numerous causes, including stress, car accidents, sports injuries, and posture.
In general, these types of headaches are caused by increased muscle tension in the neck or upper back, misalignment of one or more of the cervical vertebrae (neck bones), or irritation or compression of the nerves or blood vessels of the neck.
What Causes a Headaches?
Headaches can be caused by many things. One of the most common causes of headaches is stress. Stress puts a lot of pressure on your body, which can result in pain and discomfort. In some cases, they may be triggered by anxiety or due to poor posture at work or while sitting at home watching television. In other cases, they may be the result of a lack of sleep or an injury such as whiplash or a fall that causes damage to your neck or spine. Chiropractic care can help address these types of headaches as well as muscle spasms in the neck and back that can cause pain similar to headache pain without being true migraines.
Should You See A Chiropractor for Headaches?
Whether you're dealing with tension headaches or migraine, a chiropractor for headaches may be able to help you manage your pain. Treatments vary, but regular chiropractic care is an effective treatment for headaches, if not the most effective.
Chiropractic treatment for headaches is a safe and effective way to get relief from this common problem.
A doctor of chiropractic is trained to identify and treat the underlying causes of pain, including tension headaches, migraine, and upper cervical spinal subluxations (misalignments).
The good news is that chiropractic treatment for headaches can often provide relief from your symptoms.
In fact, studies by the Journal of Manipulative and Physiological Therapeutics (JMPT), a trusted source found that spinal manipulative therapy is an effective treatment for tension headaches. It showed that those who had chiropractic treatment for four weeks experienced a sustained therapeutic benefit in contrast with those who received other forms of care.
If you have been experiencing a frequent migraine lately, take note of any other symptoms you may be experiencing as well. Some people will experience side effects of a headache like a neck pain when they get up in the morning or bend down to pick something up off the floor. Others will feel numbness or tingling in their arms or hands after reaching for something above their heads or changing positions quickly (like turning over).
McCarron Lake Chiropractic's St Paul chiropractic clinic serves customers from St Paul, MN, and surrounding areas, including Maplewood, Roseville, Little Canada, Falcon Heights, and Arden Hills.
To find out how chiropractors for headaches may be helpful for you, contact our St. Paul chiropractors at McCarron Lake Chiropractic today or call us at (651) 489-6550.
I love the staff! I have been a patient for 12 years. I have chronic migraines and they keep me going! Everyone feels like family. They truly do care about my well-being.

Sarah W.