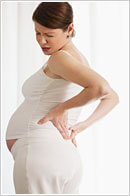 Pregnancy is a time of change for the body, mind, and spirit. The body needs to adjust itself to accommodate the growing baby. Roughly half of all mothers-to-be suffer from stress on the low back pain, spine, pelvis, hips, and joints, which can lead to pain or discomfort.
Chiropractic adjustments are gentle and safe for the mother and baby during all stages of pregnancy. Many doctors now agree that pregnancy-related low backache can be helped with chiropractic care.
Some of the Benefits of Chiropractic Care During Pregnancy
Better sleep and less pain. Chiropractic adjustments help relieve back pain, improve posture and mobility, and reduce stress on the spine and pelvis. In turn, this can lead to better sleep and less overall pain.
Improved circulation to the uterus. The increased blood flow to the uterus during pregnancy is vital for healthy fetal development. Prenatal chiropractic adjustments can help ensure the baby receives a healthy supply of nutrients through improved circulation to the uterus.
Better absorption of nutrients by mom. This will lead to fewer complications during labor and delivery. Chiropractic care helps improve digestion by removing pressure from the nerves that control digestion in the abdomen and lower back area. This allows better absorption of nutrients from food consumed by mom-to-be so she can provide her growing baby with proper nutrition for development.
Eases headaches. Chiropractic care during pregnancy reduces muscle tension in the neck and shoulders, which can relieve headaches caused by muscle spasms.
Improves posture. Pregnancy causes changes in women's center of gravity, which affects their posture. Chiropractic care helps realign women's spines to improve posture so that they feel more comfortable after giving birth.
Increases flexibility. One of the chiropractic care is to increase flexibility in women's joints so that they can move more comfortably throughout the day without pain or stiffness.
Reduced risk for postpartum depression (PPD).  Getting help from a chiropractor while pregnant has been shown to reduce risk factors associated with PPD, including pain in the back, stress from a lack of sleep due to discomfort or poor posture, and anxiety about giving birth or caring for a newborn child without going to medical or hospital.
How Chiropractic Can Help Pregnant Women's Health
If you seek chiropractic care while in the first trimester of pregnancy, it can help you ease some of the discomforts of pregnancy, such as nausea and back pain. In the second trimester of pregnancy, chiropractic care benefits help improve pelvic and hip alignment, which may reduce the risk of developing lower back pain during pregnancy. Also in the second trimester, chiropractic care can help prevent or relieve headaches associated with poor posture that frequently occur during this time.
In the third trimester, a chiropractor for pregnant women can help improve spinal alignment to make delivery easier on your back and pelvis. As a patient near the delivery time, chiropractic care may ease labor pains by reducing stress on the spine and pelvis caused by tight muscles and ligaments.
After delivery, regular chiropractic appointments can help you recover from pregnancy-related spinal changes more quickly and efficiently than without any treatment at all. 
Chiropractor Offers Pregnant Women Gentle Care
Chiropractic care is a natural and drug-free approach to health care. The entire body, including the spine, is adjusted to remove interference with the nervous system. This allows the body's natural self-healing abilities to work more effectively.
Chiropractors are highly trained in the examination, diagnosis, and treatment of spinal, postural, and musculoskeletal problems. Chiropractors are also prepared to deal with other problems that may affect your overall health and well-being.
Chiropractic care for pregnant women is gentle and non-invasive. This treatment focuses on removing interference from the nervous system that causes back pain or joint problems without drugs or surgery. Chiropractors use different tools to locate and correct problems in your body's alignment or structure. These include special tables, instruments, electrical devices, and massage therapy.
Women who did not seek chiropractic care before should be examined by a doctor before receiving chiropractic adjustments during their pregnancy because of possible complications during labor and delivery (such as a breech presentation or cephalopelvic disproportion).
Our St. Paul chiropractors are dedicated to providing gentle chiropractic care during pregnancy. We enjoy working with women during this exciting yet stressful time in their lives to make their pregnancies wonderful.
McCarron Lake Chiropractic's St. Paul chiropractic clinic serves customers from St Paul, MN, and surrounding areas, including Maplewood, Roseville, Little Canada, Falcon Heights, and Arden Hills.
To find out more about the benefits of pregnancy chiropractic care, contact our St. Paul chiropractors at McCarron Lake Chiropractic today or call us at (651) 489-6550.
"I've been seeing Dr. Dronen for over a year for chronic lower back ache. When I was in my third trimester of pregnancy I found myself barely able to walk at the end of the day, but the chiropractic care and Jessi's massage therapy made ALL the difference! If not for McCarron Lake I would have needed to be on bed rest for the last third of my pregnancy. Thank you McCarron Lake!"

Mindy M.