This recipe works with most fruit. For extra yum, add mini chocolate chips.
Makes 56 Tea Cakes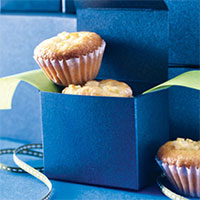 3 tablespoons butter
2 tablespoons light butter
56 paper petit four cups (1 inch each)
14 oz almond paste (pure marzipan)
1 tablespoon pure apricot spreadable fruit
3 whole eggs
1 egg white
1/4 cup all-purpose flour
2 large apples (preferably Braeburn or Golden Delicious), peeled, cored and chopped into 1/4-inch cubes
4 teaspoons confectioners' sugar
Instruction
Heat oven to 350°. Place butters in a bowl and microwave until melted, 30 to 45 seconds. Let cool 10 to 15 minutes. Arrange petit four cups on a large baking sheet. Combine almond paste and spreadable fruit in an electric mixer fitted with the paddle attachment and beat at medium speed until smooth, about 30 seconds. Scrape inside of bowl to incorporate all ingredients. Beat in eggs and egg white one at a time. Beat in flour at low speed until just combined, about 30 seconds. Add butter and beat until blended, about 30 seconds. Pour batter into a 1-gallon plastic resealable bag. Force air from bag and seal. Snip 1/4-inch piece off one of the lower corners and pipe batter into cups, filling them three quarters full. Place a few apple cubes on top of each cup. Sift sugar over cakes. Bake until light golden, 26 minutes. Let cool. Store in an airtight container at room temperature for up to 1 week.
The Skinny
51 calories per tea cake, 3.1 g fat (0.8 g saturated), 5.2 g carbs, 0.5 g fiber, 1.1 g protein
Reference: self.com/December 2008
https://www.self.com/fooddiet/recipes/2008/12/apple-tea-cakes