Treat yourself to three (yes, three!) of these treats to satisfy your sweet, crunchy and cocoa cravings all at once. The cherry on top: a disease-fighting antioxidant lift from the dark chocolate.
Ingredients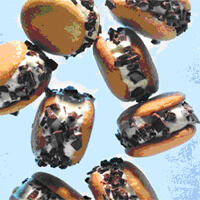 1/2 cup light vanilla ice cream (or frozen yogurt), softened at room temperature
24 vanilla wafer cookies (1 1/2 inches in diameter)
1 oz dark (or bittersweet) chocolate (60 to 70 percent cocoa solids), finely chopped
Preparation
Line a shallow storage container with waxed paper. Put a small scoop of ice cream (about 2 tsp) on a cookie; top with another cookie. Roll sandwich in chocolate so chips adhere to ice cream. Place in container. Repeat with remaining ingredients until you have 12 mini ice cream sandwiches. Cover container and place in the freezer to set for at least 30 minutes, or freeze for up to 1 week.
The Skinny
220 calories for 3 sandwiches, 8 g fat (3 g saturated), 35 g carbs, 1 g fiber, 4 g protein
Reference: SELF.com/November 2009
https://www.self.com/fooddiet/recipes/2009/11/mini-ice-cream-sandwiches