This filling meatless meal satisfies nearly a quarter of your daily fiber needs.
Ingredients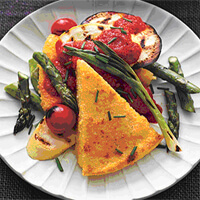 1 cup uncooked instant polenta
2/3 cup grated Parmesan, divided
1/8-1/4 teaspoon cayenne pepper • Vegetable oil cooking spray
2 cloves garlic, chopped
2 tablespoons chopped fresh thyme (or oregano) or 1 tbsp dried
1/4 cup fresh lemon juice
1 tablespoon olive oil
8 asparagus stalks, ends trimmed
8 scallions, trimmed
2 small Japanese or Italian eggplants, trimmed and halved
1 medium-large yellow squash (about 1/2 lb), cut into 1/3-inch-thick slices
1 cup cherry tomatoes
Sauce
1 jar (12 oz) prepared roasted red peppers, drained
1/3 cup vegetable (or chicken) broth
1 large clove garlic, chopped
3 tablespoons chopped fresh chives, basil or parsley (plus extra for garnish)
1 tablespoon balsamic vinegar
Preparation
Bring 3 cups water to a boil in a medium-sized heavy saucepan. Add polenta in a stream, whisking to combine. Reduce heat to medium-low and simmer, stirring frequently, until thick, 3 to 5 minutes. Whisk in 1/3 cup Parmesan and season with cayenne and salt. Coat a 9″ pie plate with cooking spray. Transfer polenta to pie plate, smooth into an even layer and let cool 15 minutes. Heat broiler. Whisk garlic, thyme, lemon juice and oil in a bowl. Season with salt and pepper. Toss vegetables with dressing. Coat a baking sheet with cooking spray and arrange vegetables in 1 layer (or in 1 layer in a grill basket). Broil vegetables about 4 inches from heat until tender and slightly charred, 3 to 5 minutes on each side.Transfer to a platter. Combine all sauce ingredients in a blender or food processor and blend until smooth. Sprinkle polenta with remaining 1/3 cup Parmesan. Broil polenta in pie plate until golden brown, 2 to 3 minutes, then cut polenta into 8 triangles. Divide polenta among 4 plates. Top with vegetables, drizzle with sauce and sprinkle with chives. Serve any remaining sauce on the side.
The Skinny:
280 calories per serving, 7.2 g fat (2.3 g saturated), 45.4 g carbs, 6.1 g fiber, 9.8 g protein
Reference: SELF.com/January 2008