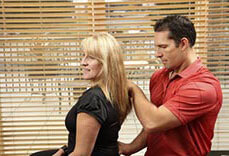 On-Site Chiropractic Care as an Employee Benefit
As employee wellness programs continue to expand, more and more employers are adding on-site chiropractic care to their list of benefits. This popular service has benefits for both the employer and employees who use the service and should be a part of every company's wellness program.
What Is On-Site Chiropractic Care?
When a company adds on-site chiropractic care as an employee benefit, a licensed Doctor of Chiropractic comes to the place of employment a certain amount of times per month. This could be monthly, every other week or even once a week, depending on the needs and the size of the company.
During this time, the chiropractor will meet with any employees who want to be treated. To get started, employees will undergo a consultation with the Doctor of Chiropractic that includes not just musculoskeletal issues but also focuses on nutrition, lifestyle, and exercises.
Once the patient's complaint has been evaluated, a treatment plan is set up and treatment begins right away. Due to space and equipment constraints of offering on-site chiropractic care, the most common on-site treatments are manual chiropractic adjustments, massage or vibration therapy. Specialty treatments may require the employee to make an appointment at the chiropractor's office or with another specialist.
The Benefits Of On-Site Chiropractic Care
Both employers and employees benefit from on-site chiropractic care in the form of cost-savings, time-savings, and improved health and wellness.
Employer benefits include:
The reduced overall cost of healthcare. Chiropractic care can prevent small aches and pains from becoming debilitating conditions that require intensive treatment. The more intensive treatment employees require, the higher the employer's overall healthcare costs will be. Chiropractic adjustments that head off these problems and prevent those claims from ever being made.
Employees use less PTO to travel to and from doctor appointments during the weekday. A visit with an on-site chiropractor runs just 5-15 minutes, depending on the services needed. An off-site visit, by contrast, likely requires at least one hour, factoring in travel time and office wait time. This leads to less disruption of the workday and less time that employees are absent.
Improved employee morale. Employees like to feel appreciated. When employers bring in a service like on-site chiropractic care, employees know their well-being is cared about.  Many are happy just to have this additional "perk" of working for their employer.
Cost-effective use of healthcare funds. Instead of conducting a wellness program that is aimed at smokers or overweight employees only, for example, on-site chiropractic services reach a far wider audience making them more cost-effective and far-reaching than more targeted wellness programs.
Employee benefits include:
Less use of PTO. As mentioned above, if the chiropractor comes to their place of employment, workers don't have to use PTO to get to their appointments. In a short amount of time as a coffee break, they can get their adjustment and be back to the desk without having to touch their PTO accruals.
Improved health. We feel better when we're not in pain. Chiropractic treatments can alleviate aches and pains in a quick and non-invasive manner. Chiropractors also focus on whole-body wellness. This means the Doctor of Chiropractic can advise the patient about lifestyle choices and be a resource for healthier living.
Individual attention. An on-site Chiropractor can address each employee's individual needs and health concerns on a wide range of topics. If referrals to a specialist are needed, the Doctor of Chiropractic can provide those as well. This can cut down on the number of employees who put off seeing a doctor because it's inconvenient to do so and also put patients in touch with the right doctor sooner instead of having to see a specialist after a specialist to get a diagnosis.
How Much Does It Cost?
Costs for on-site chiropractic care vary based on the frequency of visits and how many patients the chiropractor sees. There are a few different ways the program can be set up. They include:
Insurance-based plans. If chiropractic care is already offered as a benefit under the company insurance plan, treatments can be billed just the same as if the employee were to visit the chiropractor at his or her office. If patients would normally be required to provide a co-pay, they would still do so.
The company paid plans. In this case, the company offering the benefit would pay the chiropractor a set fee based on a monthly contract. The fee is determined based on the number of hours the chiropractor is expected to be on-site and/or the number of patients he or she is expected to treat.
Company subsidized plans. This is a hybrid of the two plans mentioned above. The employer will set up the contract with the chiropractor and pay a portion of the fee with employees who use the service pay the rest of the fee at the time of treatment.
How Often Does The Chiropractor Visit?
The frequency of visits to the business site will be different for every company. The size of the business has the biggest impact on the frequency of visits. A small company with less than 25 people may only need a visit once a month, whereas companies that have more than 100 employees might need weekly visits.
Additional Services
Once you have a chiropractor coming into your place of business to treat employees it is easy to add on additional wellness services such as group education sessions. Classes on nutrition, posture, at-desk exercises, stretching or stress-relief all tie in nicely with chiropractic adjustments and can help employees take control of their health and feel better about themselves.
To learn more about on-site chiropractic care and see if can be added to your corporate wellness program, consult a  local chiropractor.