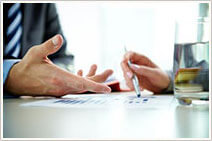 One on one, patient and doctor, time is the key to a successful wellness program and every program needs a first step, this is where the Stress/Wellness evaluations come in. Our St. Paul chiropractors and staff use this time to discuss any health concern the employee may have and provide solutions to these concerns. Additionally, we take this opportunity to explain what wellness and prevention are to the employee and how they can be pro-active with their health. These evaluations are usually done during the employee's normal shift. Arrangements are made with the appropriate supervisor and the appointments are scheduled for about 15 minutes. If it is not possible to do these evaluations during a regular shift other arrangements can be made.
McCarron Lake Chiropractic's St Paul chiropractic clinic serves customers from St Paul, MN and surrounding areas including Maplewood, Roseville, Little Canada, Falcon Heights and Arden Hills.
To find out how chiropractic adjustments may benefit you or for a diagnosis of an injury or condition that requires chiropractic treatment, contact our St. Paul, Minnesota chiropractors at the McCarron Lake Chiropractic today or call us at (651) 489-6550.