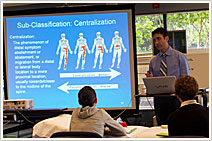 Chiropractors are experts in the human body, so it's no surprise that they are also wellness experts and great advocates for providing wellness workshops to your employees, associates, or community.
The goal of having a wellness seminar is to support or provide participants with tools for maintaining their health and preventing illness through diet and exercise. Chiropractors offer a lot of information about healthy lifestyle balance and nutrition during these workshops because they know how important it is for overall wellbeing. Chiropractors frequently offer classes in which patients can learn about proper eating habits and exercise routines that will benefit their overall health.
We can address many different topics, including low back injury prevention, a health-conscious lifestyle, and stress reduction. With our workshop, the employer can decide on the number and frequency of talks, along with the topics. These talks can be done before, during, or after an employee's shift, depending on convenience.
Some topics include:
Low Back Injury Prevention
This presentation focuses on the proven keys to reducing the risk of low back injuries. Our chiropractor St Paul will make the employees educated and motivated to take an active role in maintaining low back health, which will be the central theme. Employees will be informed of the potential risks, short- and long-term prevention strategies, and the importance of early warning signs.
Wellness Workshop for Reducing Employee Stress
This presentation will provide employees with information on how to manage and reduce their stress. Employees will understand the physical effects of stress and how to identify which tools will work for them individually. In addition, they will learn the key signs that indicate they need professional assistance and how to get that help.
A Healthier You
This presentation focuses on general wellness goals. It covers everything from getting better sleep to choosing a healthy lifestyle and avoiding chronic illnesses. It provides tips on goal setting, breaking bad habits, and continually motivating ourselves to better living.
If you want to support your employees in living a simple and holistic lifestyle as a company or manager, organizing a wellness event or workshop for them is a good idea.
If you have a specific wellness workshop for your team in mind, we can create something to engage and inform your team members.
McCarron Lake Chiropractic's St. Paul chiropractic clinic serves customers from St Paul, MN, and surrounding areas including Maplewood, Roseville, Little Canada, Falcon Heights, and Arden Hills.
To find out how chiropractic adjustments may benefit you or for a diagnosis of an injury or condition that requires chiropractic treatment, contact our St. Paul, Minnesota, chiropractors at McCarron Lake Chiropractic today or call us at (651) 489-6550.